Great performance in Cappelle La Grande
2 March 2016

Posted by:

Alessandro Santagati

Category:

tournaments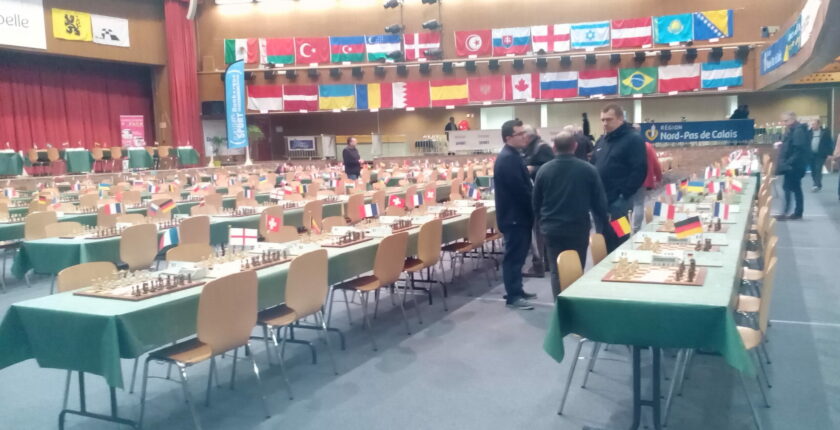 I played between 13-20 february the international open of Cappelle La Grande, it's a very strong open with over 500 players, for me it was a wonderful experience and I had the possibility to play against very strong players.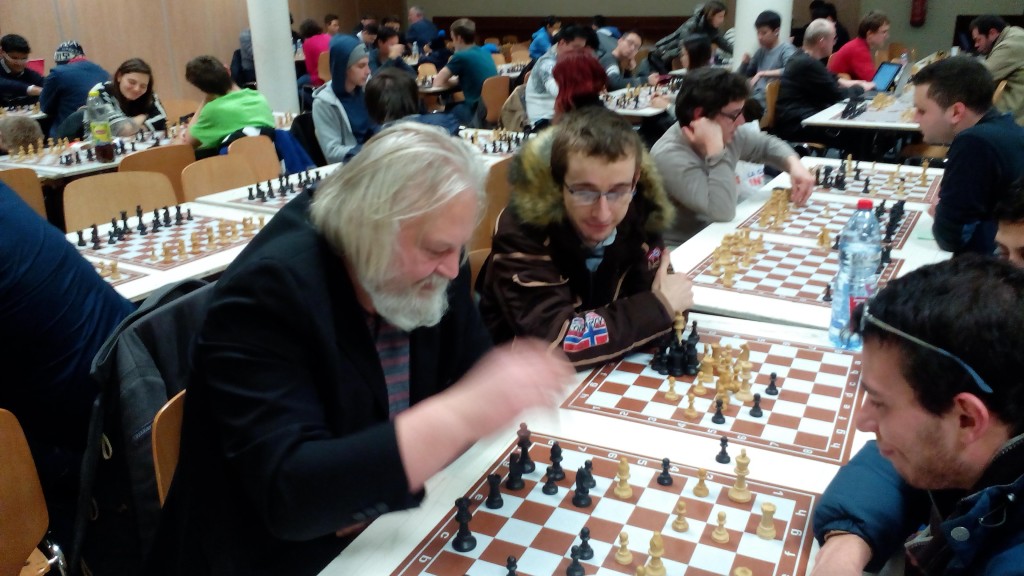 I'm writing a report about my tournament, I hope that you will enjoy it.
Friday 12 february I flew to Paris, here I took the "chess bus", in fact, the organizers offered (for free) a bus to reach Cappelle La Grande from Paris or Bruxelles. This trip to Cappelle was long (over 3 hours) but very interesting, the bus was full of very strong players from all the world (also Gata Kamsky was there!).
Saturday 13 february my tournament starts! The first round is not so easy, I played against the chinese grandmaster Wan Yunguo (2485 fide rated). I didn't play very well but at end I had a draw position ( I play as white)
In this position I can play Re8, and I can force for sure the perpetual check ( or if black doesn't pay attention, maybe I can also play to win) but…..I had 1 minute and half in my clock and in my mind there was the idea to play immediately and I played Rxa6?? and I lost immediately
In the second round I played against Didier Couche (2011 fide rated) , it was a very hard game for me but at end I won this endgame
In the 3rd round I played against the grandmaster Anthony Wirig (2513), I played a bad opening and I lost quickly.
In the game number 4 I had the opportunity to play a very nice game with the Goring Gambit against Alex Ladisic (2001). Can you  guess what did I play?
I was unlucky because after my victory in the round 4 I played 2 games against low rated players.
I won the round 5 against Aurele Lenoir (1740) and the round 6 against Christian Baumhauer (1933), this game was hard, to win was important his mistake at the move 31 h4?, if e3 probably he can play for a draw.
At the round 6 , I had 4 points but only against weaker players, so it wasn't a very great result for me. At the round 7 I played against a very strong player, the international master
Renato
Quintliano Pinto
(2429) from Brazil, I won this game and I made
a video analysis about it
and about the last two games: a very important draw against the strong grand master
Matthieu Cornette
(2594) and another good draw against the strong international master
Axel Delorme
(2512)
Quintiliano P – Santagati
Santagati – Cornette
Santagati – Delorme
I finished my tournament with 6 points in 9 game and with a very good performance 2383, with a variation + 30.2, so I didn't became a fide master for only one point! ( my new rating is 2299)